LOVE LOCAL
The $ayBucks Community eGift Card may be redeemed at participating local businesses in and around Old Saybrook. When you give the gift of $ayBucks you're supporting our local community.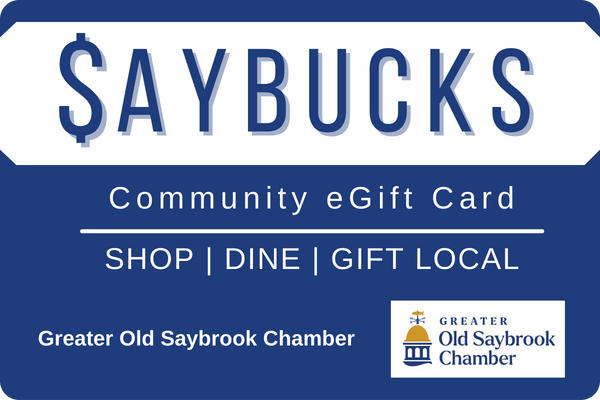 THE PERFECT GIFT
$ayBucks Community eGift Cards can be easily purchased online and given as gifts to family, friends, employees, teachers, coaches, you name it!  All your favorite local places on one digital card! The card is emailed to the recipient, who can present it to merchants on their smartphone or print it out. Easy!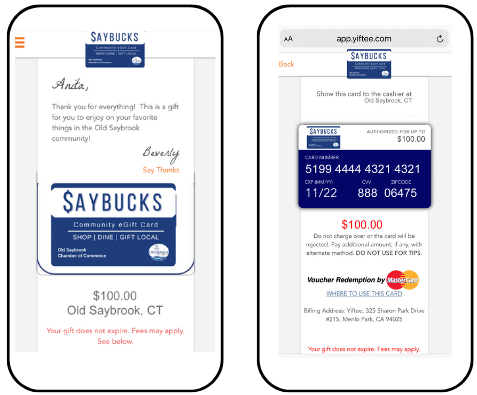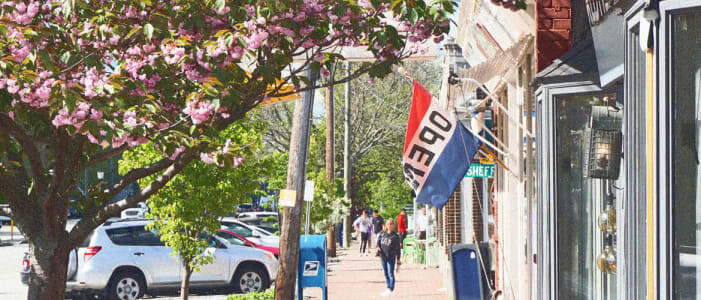 The $aybucks Community eGift Card is the first digital gift card redeemable exclusively in and around Old Saybrook. All of your favorite restaurants, retailers, and service providers in one place!
Would you like to Accept $ayBucks at your Business?
Join fellow local businesses that are successfully accepting $ayBucks.
No special integration, equipment or software is needed.
If you currently accept Mastercard, you can accept $ayBucks Digital Gift Cards.
From Doug Grabe, owner of Little Pub,
"The eGift Card works great! It's seamless to accept and customers love it!"
Enroll today!
Purchase & Redemption FAQs
How do I purchase a card? Purchase your e-card online at $ayBucks Community eGift Card.
Purchasers only need the email or cell phone number of the person they would like to send an eCard to.
Purchaser can write a personal message to be sent with the eCard.
Select a denomination up to $250.
Select a date for the eCard to be delivered. Today or any time in the future.
The purchase of the card is subject to a delivery fee of $1 + 5% of the card value.
The purchaser will receive a notification when the eGift card is sent, viewed and redeemed.
How is the $ayBucks Community eGift Card delivered?
The gift recipient will receive an email or text letting then know that the purchaser has sent them an eGift Card.
The personal message from the purchaser is seen by the recipient.
The recipient can find a list of participating merchants in the email or text.
The recipient presents an image of the card on their phone at the time of redemption and the cashier processes as a Mastercard.
The card balance is displayed on the phone, and can be used at other participating businesses until spent.
Where can $ayBucks Community eGift Cards be redeemed? Gift cards can be redeemed at any of the participating locations in Old Saybrook and neighboring towns.
Are physical cards an option? No, plastic cards are not available. The card is available electronically on a cell phone, or if you choose, you can print out the card on a piece of paper from your device.
I have an older paper $ayBucks. How do I redeem it? Bring your paper $ayBucks to our office and we will convert it to a digital card.
Bulk Purchases for Employees and Clients
Contact the Greater Old Saybrook Chamber office for more information about purchasing $ayBucks Community eGift Cards in bulk. Show recognition and acknowledgement – great for employee, client, teacher gifts, and more.