A Holiday Passport of Savings
offered by Old Saybrook and area businesses. Booklets may be purchased for $5 each beginning November 1, at the Chamber office and at various businesses. Inside the booklet you'll find special offers and holiday promotions, as well as a calendar of community holiday events, and a 'where-to-donate' resource.
Watch this space for updates!
Merchants, Businesses & Advertisers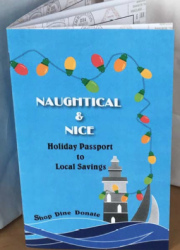 Click here for pricing and to register online>>