Each year the Old Saybrook Chamber of Commerce recognizes members in three categories for outstanding commitment to the community and to the Chamber. The awards were announced at the Chamber's Annual Meeting & Silent Auction, held December 6 at Saybrook Point Inn. The 2016 Annual Awards recognize Fitzgerald Painting, Business of the Year, Vista Life Innovations, Non-Profit of the Year, and Kay Hall, Volunteer of the Year.
Fitzgerald Painting was selected as Business of the Year for its positive influence in the community. Fitzgerald Painting, an exemplary business and employer, was founded by Chuck Fitzgerald in 1987 and next year will mark thirty years of doing business in Old Saybrook and the surrounding area.
Chuck Fitzgerald receives Business of the Year award
Vista Life Innovations of Westbrook was awarded Non Profit of the Year for its dedication to assisting people with learning disabilities, and for its engagement within the community.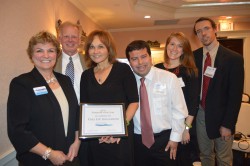 (l-r) Judy Sullivan, Executive Director, Old Saybrook Chamber of Commerce; Robert Bradley, President, Old Saybrook Chamber of Commerce, Helen Bosch, Chief Executive Director, Vista Life Innovations with Brian Ruddy, Malley O'Shea and John Tillinghast
Volunteer of the Year was awarded to Kay Hall, an Old Saybrook resident who has donated many hours assisting the organization over the past four years, whether at the Arts & Crafts Festival, Chili Fest, or Business Expo as well as behind the scenes at the Chamber office.
Volunteer of the Year Kay Hall, with Chamber president Robert Bradley